Hello everyone,


You have a problem with your account, game or purchase and want to send in a Ticket, but you don't know exactly how?

No problem!

Here in this Thread, I will show you how to do so. Just simply follow these steps:

Step 1:
Visit our support page: https://support.gamigo.com/index.php?/english

Step 2:
Click on "send a ticket"


Step 3:
Choose "EN - Twin Saga" as game.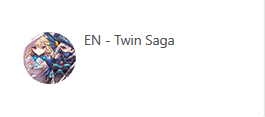 Step 4:
It should look like this now:


Please fill out all the fields (You don't need to fill in "Billing Inquiries" if you don't have an AP-Purchase/Error issue)
Make sure that you add a valid email address when you create a support request.

If not, we won't be able to answer you. Ideally, you should use your account's email address.
In the field "Your Message" we kindly ask you to describe the problem in as much detail as possible.
The more information we have, the quicker we can process your query.


Step 5:

Click on "send" after filling in the CAPTCHA Verification.


Step 6:

Wait for us to reply.
Note:


- Do not send Bug Reports in a Ticket! We will provide a formula, that you have to fill in on our Webpage

- Do not send Tickets for ingame related questions unless they are technical problems. Ingame related questions should be posted on the Forums or on our Official Discord Server. <- click to join!

Have a nice day!