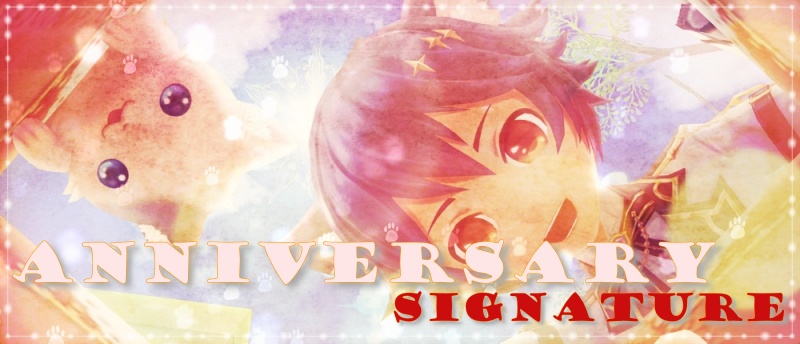 Greetings Guardians!
Since we also want to celebrate Twin Saga's anniversary in the forum,
we thought you could design a nice signature for our our GM / Mods.
Guidelines
Create a signature on the theme of the anniversary / party for one of our GM / Mods
<Mod> Arclight
<Mod>Enigma
<GM> Kuroneko
or <GM> Legretta
and post it in response to this post.
Rules
♥ You are only allowed to sign for one person;
♥ The theme should match the anniversary ;
♥ The character name of Arclight, Enigma, Kuroneko, Legretta should be on the signature;
♥ You are allowed to work with editing programs such as Paint, Photoshop and Co;
♥ Enter your character name;
♥ You can either take part in the DE, EN or the FR event
♥ The entry must be submitted within the specified time
♥ You are only allowed to participate once per person;
♥Entry with no effort may be disqualified
♥ Please follow the Terms of Use
Prizes
1st place: 1x body costume of your choice +
10 cake points
2nd place: 1x body costume of your choice +
10 cake points
3rd place: 1x back costume of your choice +
8 cake points
4th place: 1x back costume of your choice +
8 cake points
5th place: 1x head costume of your choice +
5 cake points
Participants: 5x astral crystal (bound) +
2 cake points
What are Cake Points for? Just stop by here -> Cake Points
♥ time ♥
09/14/20 - 09/20/20 11:59 p.m. PST